@all
Thanks to all of your replies. I tried my M2's in my laptop and they worked perfectly. I didn't have any other iPhones to be able to test the M2s there, but admin's reply made me think that it probably was my iPhone.
I noticed the headphone plug didn't see very flush with the iPhone, so I took out my trusty flashlight and saw this wad of something inside my headphone jack where you should be able to see the white (or red) moisture detection dot. I grabbed a needle and fished out this little sucker: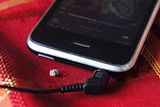 Now the headphones sit perfectly flush and my sound is perfect!
I can twist any which direction and the sound is perfect.
Thanks for the information, guys.
Much appreciated,
~Ibrahim~