Optimus Cobalt Review - 2GB.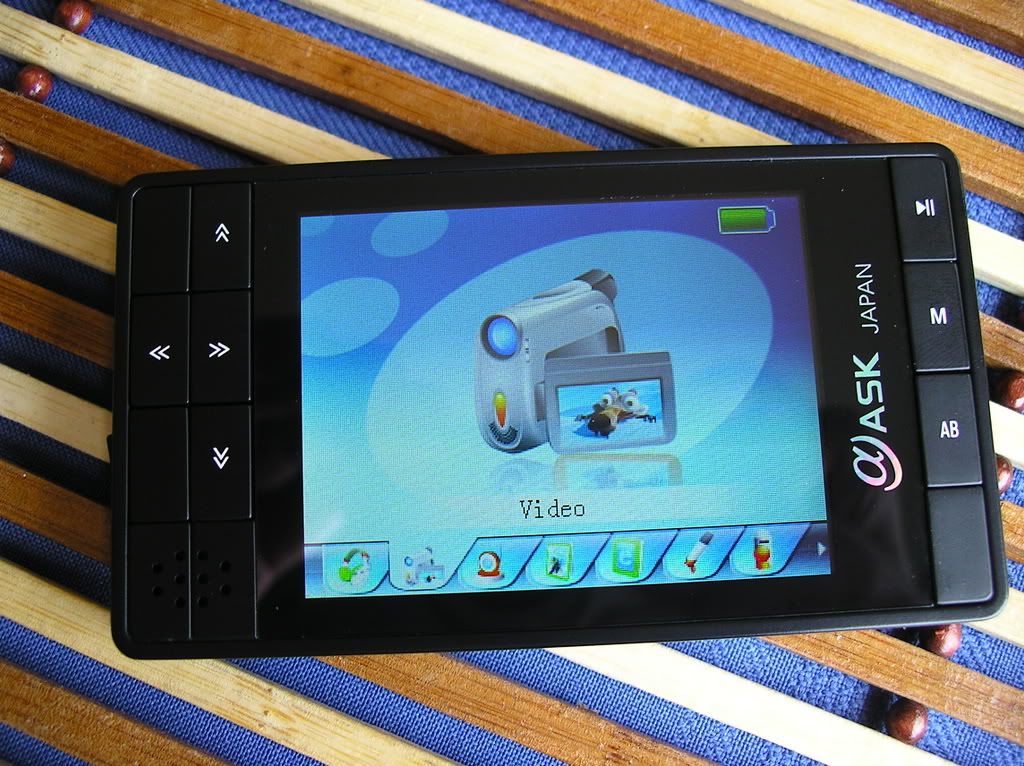 This is my third Rockchip player, and so far the biggest, having a 3" TFT LCD Screen.
Screen:
It's a 3" LCD, with a pixel resolution of 320x240. Like my other Rockchips, there are five brightness settings. The brightest (curiously level 1 rather than level 5) is ok, but not quite as bright as my other units. It's absolutely fine though in general lighting conditions.
I like the consistency of the backlight - i.e. there are no 'bright' spots behind, or to the side of the screen where the white LED backlights sit. This is noticeable on my other RC's and also believe it or not, on my M6 too.
The player does need to be held pointing slightly more towards my left for optimum viewing angle. No great problem but dead straight, and towards the right result in a much darker, 'polarized' image. However, the overall viewing experience is better than my 2.4" RC's, thanks to the larger screen.
Audio:
MP3's play well, and sound great. There is little in the way of background hiss. The Cobalt apparently has a 'Wolfson' audio chip inside, which is supposedly superior to that in non-Wolfson Rockchip players. To be honest, I cannot tell the difference even using a pair of expensive Sennheiser headphones. It's not that the sound is bad - because it's not. I've always been impressed with the sound quality of Rockchip players; it's just the Cobalt sounds no better than my other players, which are all quite new. Perhaps very early Rockchips were poor sound quality??
Radio:
It's just the same as the other RC's and it picks up plenty of stations here just south west of London. Like my other Rockchip players, the Cobalt can record off the radio, and the quality is excellent. I am still unable to play the recording on anything other than another Rockchip though!!
Battery:
It comes with a removable battery, which at the moment is semi useful. There are no identification marks on the battery which would enable me to pick up another from somewhere!! I think I have identified it as a Samsung cell phone battery, but I have asked MP4Nation to look into getting a positive i.d. from their supplier.... The one I got was only 600mAh, and not 1000mAh as stated in the website, but it seems to last for more than 2 hours of continuous movie playing.
Movie Playing:
Great, just like all my Rockchips ! This is one area I belive the Rockchips actually out perform Meizu's on. I typically get 22 FPS remaining in sync with the audio and very recently I have been getting 25FPS to work with video bit rates of around 350.
Again like all Rockchips, you cannot return to the place you left off, which can be a pain. However, fast forwarding with the Cobalt is quicker than my other Rockchips at around 1 minute per second.
Games:
You've seen the Youtube review??
http://www.youtube.com/watch?v=wxrSALth_mQ
Yes, there are more games than on a standard Rockchip, but they're not my 'cup of tea'. I think there are 5 in total.
Build Quality:
It's pretty good. The buttons are nice and positive, and it has a sort of late 80's feel to it. Mine is jet black as opposed to grey, and I prefer that. The 'screen' over the LCD is very flimsy, so it'll need protecting if you tend to carry your player in the same pocket as your keys!
Speaker:
It's at the front, but don't expect miracles! It's quiet and tinny and you won't get the most out of your Rockchip until you plug in a decent pair of headphones. By the way, both the headphone and the line-in ports are 2.5mm as opposed to industry standard 3.5mm. You get an adapter with the player though. I also noticed that the stereo is the wrong way round. That might be the 2.5 to 3.5mm adapter that came with the player however?...
Line In:
I have tried it and it works. You cannot hear what is being recorded though, at least not through the built in speaker. I don't know if you can monitor what's being recorded through the headphones, as I only have one 2.5 to 3.5mm adapter, and that's used on the line in! The recording quality is 256kbps but it is not quite a good as a dedicated 'expensive' mp3 encoder. You wouldn't use it for mastering you band's demo prior to sending it off to the record company!
Overall:
I'd give it 8/10, especially for the price.
I may continue to edit this review as further things about this player come to light.